Golf cart will be used to increase awareness around impaired and distracted driving with teens
13 August 2019
AAA Awards Byron Police Department With Traffic Safety Grant

AAA AWARDS BYRON POLICE DEPARTMENT WITH TRAFFIC SAFETY GRANT
Golf cart will be used to increase awareness around impaired and distracted driving with teens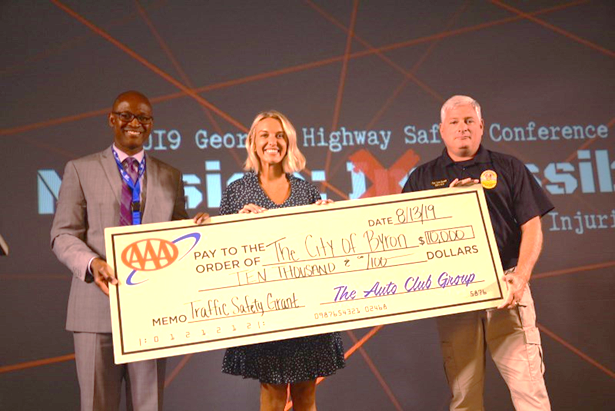 WHO:

Check Presentation (From left to right):
Garrett Townsend, Georgia Public Affairs Director, AAA-The Auto Club Group

Brittany Floyd, Public Affairs Specialist III, AAA-The Auto Club Group

Cpl. Lee Smith, Byron Police Department
WHAT:

Official AAA Traffic Safety Grant Presentation to Byron Police Department for golf cart that will be used to increase awareness around impaired and distracted driving with teens.
AAA-The Auto Club Group was proud to recognize and reward the City of Byron Police Department, with a $10,000 AAA Traffic Safety Grant. The purpose of the AAA Traffic Safety Grant program is to offer funding that supports the overall needs of law enforcement agencies in order to reduce traffic injuries and fatalities among teen drivers. The grant financed the purchase of a gas powered golf cart and teen traffic safety collateral for the Byron Police Department's Safe Traffic Operations Program (STOP). The STOP was implemented in 2012 and is of no cost to the public. The STOP supports local and surrounding communities with educational traffic safety awareness programs. These items will enable Byron Police Department to increase education and awareness to teens on the topics of impaired and distracted driving.
WHEN:
Tuesday, August 13, 2019
WHERE:
Governor's Office of Highway Safety Annual Conference- Savannah, GA
About The Auto Club Group
The Auto Club Group (ACG) is the second largest AAA club in North America. ACG and its affiliates provide membership, insurance, financial services and travel offerings to over 9.9 million members across eleven states and two U.S. territories including Florida, Georgia, Iowa, Michigan, Nebraska, North Dakota, Tennessee, Wisconsin, Puerto Rico and the U.S. Virgin Islands; most of Illinois and Minnesota; and a portion of Indiana. ACG belongs to the national AAA federation with more than 59 million members in the United States and Canada and whose mission includes protecting and advancing freedom of mobility and improving traffic safety. Motorists can map a route, identify gas prices, find discounts, book a hotel, and access AAA roadside assistance with the AAA Mobile app for iPhone, iPad and Android. Learn more at AAA.com/mobile. Visit AAA on the Internet at AAA.com.