Law enforcement officers will distribute helmets to children and others in need
01 May 2020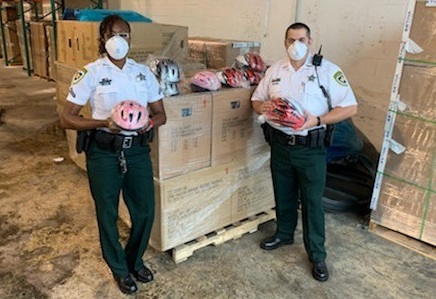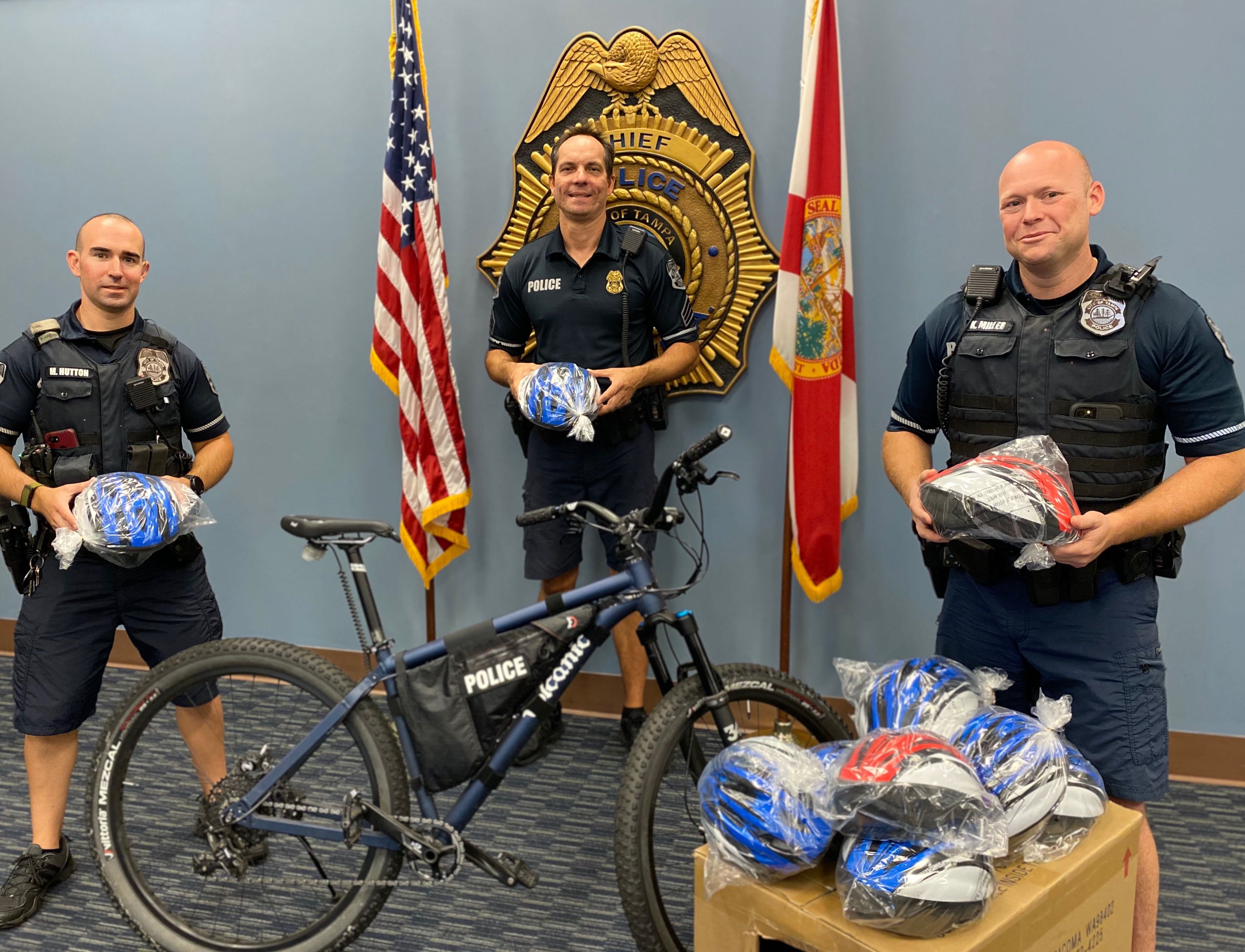 Cities are seeing an increase in bicycling as Floridians seek outdoor exercise during this pandemic. While AAA urges residents to follow CDC guidelines, we also want to make sure people are safe when out on the roadway. To promote bicycle safety, AAA – The Auto Club Group is donating 1,000 bicycle helmets to be distributed to children and others in need throughout Hillsborough County.
"During this pandemic, face masks have become an important accessory; but AAA urges bicyclists to not forget their helmet," said Mark Jenkins, spokesman, AAA – The Auto Club Group. "School-aged children are staying closer to home right now, which means more time spent riding their bicycles. Florida law requires children 16 years and under to wear a helmet. Unfortunately, not everyone does. So AAA decided to partner with local law enforcement to ensure children can get a helmet if they do not have one."
This week, five hundred helmets were delivered to both the Hillsborough County Sheriff's Office and Tampa Police Department. Deputies and officers will distribute the helmets once social distancing guidelines are eased.
Regardless of age, AAA encourages all bicyclists to wear a properly fitted bicycle helmet every time they ride. A helmet is the single most effective way to prevent head injuries resulting from a bicycle crash.
Finding the Right Fit
Bicycle helmets should fit comfortably and snug, but not too tight.
It should sit on your head so that the front rim is just above your eyebrows.
If the helmet rests farther back, your forehead will be exposed, providing less protection from head injury.
Before buckling the chin strap, shake your head from side to side. If the helmet turns or slides, it's too big and won't protect your head no matter how tight you pull the strap.
Adjust the size with the straps, dials and pads supplied by the manufacturer.
When your chinstrap is buckled, open your mouth and feel the helmet press firmly against the top of your head.
COVID-related tips
If you have any COVID-19 symptoms or have been exposed to someone who has tested positive for COVID-19, you should stay home as you risk spreading it to others.
Be sure to adhere to state and local COVID-19 orders.
Bike trails can become congested; maintain a distance of at least 6-feet from others.
Consider wearing a cloth face mask, as recommended by the CDC. Check your state/local regulations to see if this is required in your location.
General Bicycle Safety
Bicyclists are required to obey the same rules of the road as motorists. Ride with the flow of traffic, obey all traffic laws and follow all traffic signs, signals and pavement markings.
Stay alert while riding. Texting or wearing headphones can limit your ability to react to hazards on the road, and are prohibited in some states!
Motorists should allow at least 3 feet of clearance when passing a bicyclist on the road, look for cyclists before opening a car door or pulling from a parking space, and yield to cyclists at intersections and as directed by signs and signals. Be especially watchful for cyclists when making turns, either left or right.
For more information, download AAA's Bike Basics Guide.
About AAA - The Auto Club Group
The Auto Club Group (ACG) is the second largest AAA club in North America. ACG and its affiliates provide membership, insurance, banking, financial services, and travel offerings to over 13.5 million members across 13 U.S. states, the province of Quebec and two U.S. territories including Florida, Georgia, Iowa, Michigan, Nebraska, North Carolina, North Dakota, Tennessee, Wisconsin, Puerto Rico, South Carolina and the U.S. Virgin Islands; most of Illinois and Minnesota; and a portion of Indiana. ACG belongs to the national AAA federation with more than 60 million members in the United States and Canada whose mission includes protecting and advancing freedom of mobility and improving traffic safety. Motorists can map a route, identify gas prices, find discounts, book a hotel, and access AAA roadside assistance with the AAA Mobile app for iPhone, iPad and Android. Learn more at AAA.com/mobile. Visit AAA on the Internet at AAA.com.