03 May 2021
NEWS RELEASE

CONTACT:

Montrae Waiters, AAA spokeswoman, The Auto Club Group
Cell (813) 244-0815
Mwaiters@acg.aaa.com
AAA Savannah
To Host Drive-Thru Bike Helmet Giveaway for Kids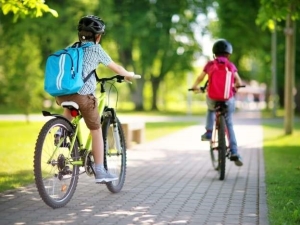 Savannah community partners will distribute helmets to children in need
SAVANNAH, GA (May 3, 2021) Cities are seeing an increase in bicycling as Georgians seek outdoor exercise during this pandemic. While AAA urges residents to follow CDC guidelines, we also want to make sure people are safe when out on the roadway. To promote bicycle safety, AAA – The Auto Club Group is donating 300 bicycle helmets to children in need throughout Chatham County.
"After a full year in a global pandemic, and as more Americans are getting vaccinated, outdoor activities are on the rise," said Montrae Waiters, spokeswoman, AAA – The Auto Club Group. "School-aged children are spending more time riding their bicycles, and Georgia law states children 16 years and under must wear a helmet. Unfortunately, not everyone does. So AAA Savannah is partnering with the local community to ensure children can get a helmet if they do not have one."
The AAA Savannah Drive-Thru Bike Helmet Giveaway will be held this Thursday, May 6th from 5:00 p.m. to 7:00 p.m.? AAA Savannah branch, 712 Mall Blvd., Savannah, GA 31406 (While supplies last).
Drive-Thru Instructions:
Please stay inside your vehicle for the entire drive thru event
Child MUST be present in the vehicle
Follow event route as directed
Pop your trunk for helmet placement
Regardless of age, AAA encourages all bicyclists to wear a properly fitted bicycle helmet every time they ride. A helmet is the single most effective way to prevent head injuries resulting from a bicycle crash.
Finding the Right Fit
Bicycle helmets should fit comfortably and snug, but not too tight.
It should sit on your head so that the front rim is just above your eyebrows.
If the helmet rests farther back, your forehead will be exposed, providing less protection from head injury.
Before buckling the chin strap, shake your head from side to side. If the helmet turns or slides, it's too big and won't protect your head no matter how tight you pull the strap.
Adjust the size with the straps, dials and pads supplied by the manufacturer.
When your chinstrap is buckled, open your mouth and feel the helmet press firmly against the top of your head.
COVID-related tips
If you have any COVID-19 symptoms or have been exposed to someone who has tested positive for COVID-19, you should stay home as you risk spreading it to others.
Be sure to adhere to state and local COVID-19 orders.
Bike trails can become congested; maintain a distance of at least 6-feet from others.
Consider wearing a cloth face mask, as recommended by the CDC. Check your state/local regulations to see if this is required in your location.
General Bicycle Safety
Bicyclists are required to obey the same rules of the road as motorists. Ride with the flow of traffic, obey all traffic laws and follow all traffic signs, signals and pavement markings.
Stay alert while riding. Texting or wearing headphones can limit your ability to react to hazards on the road, and are prohibited in some states!
Motorists should allow at least 3 feet of clearance when passing a bicyclist on the road, look for cyclists before opening a car door or pulling from a parking space, and yield to cyclists at intersections and as directed by signs and signals. Be especially watchful for cyclists when making turns, either left or right.
For more information, download AAA's Bike Basics Guide.
Visit the AAA Georgia Newsroom
Twitter @AAAGeorgia
About AAA - The Auto Club Group
The Auto Club Group (ACG) is the second largest AAA club in North America with more than 14 million members across 14 U.S. states, the province of Quebec and two U.S. territories. ACG and its affiliates provide members with roadside assistance, insurance products, banking and financial services, travel offerings and more. ACG belongs to the national AAA federation with more than 62 million members in the United States and Canada. AAA's mission is to protect and advance freedom of mobility and improve traffic safety. For more information, get the AAA Mobile app, visit AAA.com, and follow us on Facebook, Twitter and LinkedIn.