AAA's research sheds light on the importance of allowing Adaptive Driving Beam Headlights on U.S. roads
16 April 2019
Broadcast Quality B-Roll
TAMPA, Fla., – Driving at night carries the highest fatality rate for both drivers and pedestrians, according to night-time crash data from NHTSA. This data shows that 56 percent of fatalities on Florida roadways occurred at night. However, AAA believes American roadways could be made safer by headlight technology already being used in Europe and Canada.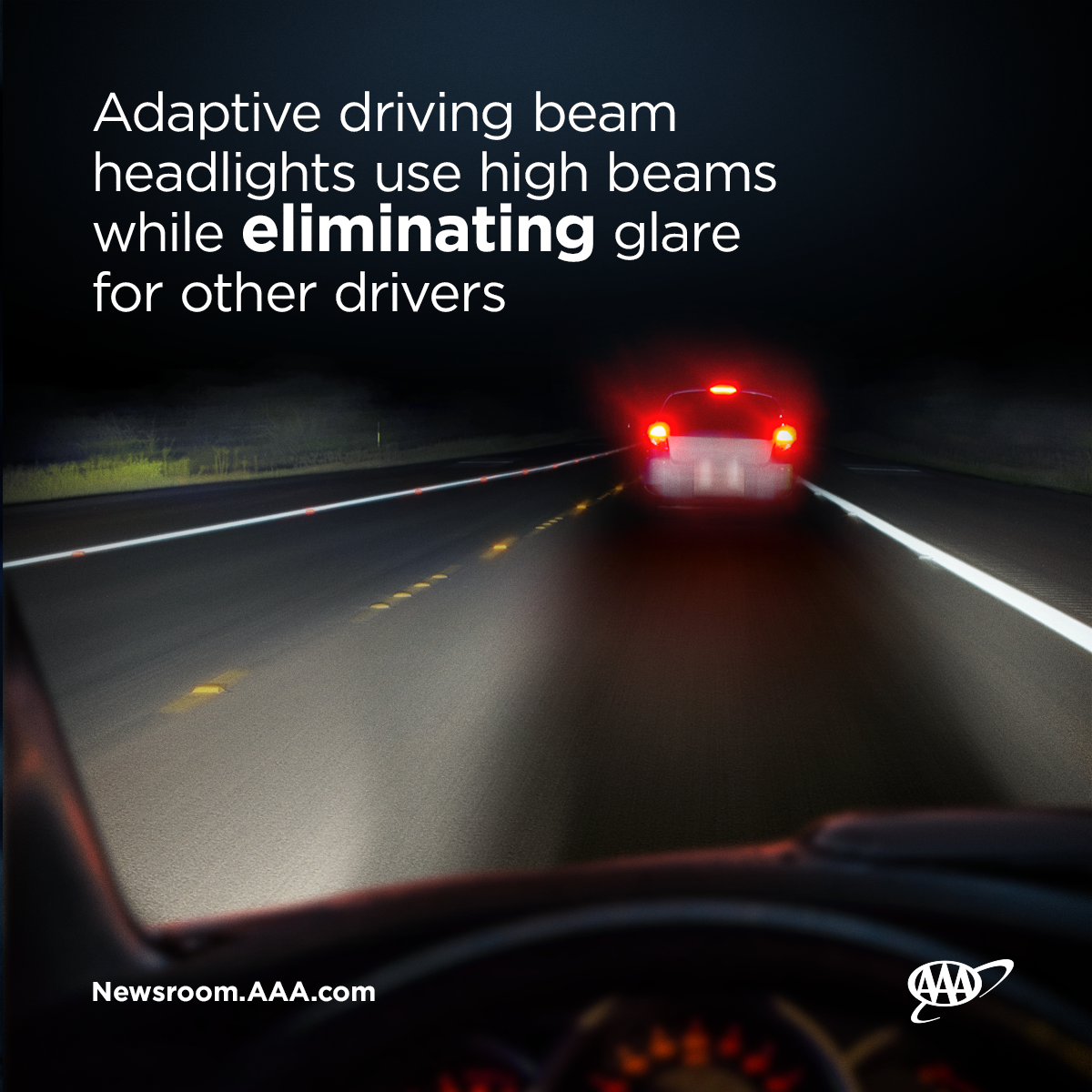 New research from AAA found that European vehicles equipped with adaptive driving beam headlights (ADB) increase roadway lighting by as much as 86 percent when compared to U.S. low beam headlights. AAA believes this technology, not presently allowed by U.S. standards, is the first real solution to providing more light for drivers at night, and supports changing the law to allow ADB to be used to its full capability.
"Driving at night doesn't have to be such a risky undertaking for Americans," said Mark Jenkins, spokesman, AAA – The Auto Club Group. "Improved headlight technology not only exists, but is being used in other parts of the world to effectively provide the light needed to keep drivers and pedestrians safer."

Summary Points
Most low beams are insufficient at speeds above 39 MPH
Sixty-four percent of Americans do not regularly use their high beams
Adaptive driving beam headlights may increase roadway lighting up to 86 percent
ADB headlights use high beams while eliminating glare for other drivers
While allowed in Europe and Canada, U.S. regulations do not allow ADB systems on the roads.
AAA supports adaptive driving beam headlights and NHTSA's work in this area to consider changing the current standards

AAA Research Reveals the Dark Truth
Previous AAA research found that a majority of Americans (64 percent) do not regularly use their high beams. This means when driving at moderate speeds like 40 mph with low beams on, motorists will not have enough time to appropriately react to something or someone in the roadway.
High beams improve forward illumination by 28 percent in comparison to low beams, and are much more effective at providing the proper amount of light when traveling at higher speeds. With ADB, the high beams are always on and when another vehicle is detected, that area is shaded to prevent glare that would otherwise interfere with the other driver's field of vision.
Some newer U.S. vehicles are equipped with a similar technology that automatically switches between high and low beam, which does help to address this issue and increase visibility, but only when other vehicles aren't present. However, once an oncoming or preceding vehicle is detected, the car will switch from high to low beams, thus losing the benefit of the additional light.
Why Adaptive Driving Beam Technology Isn't Allowed in the U.S.
The phrasing and lack of update to the Federal Motor Safety Standards for headlights prohibits the use of adaptive driving beam technology in the U.S. While the standard does not expressly forbid ADB systems, it does not allow for low and high beam headlights to be used as the same time, which is the primary function of ADB technology.

Seeking New U.S. Standards
Change is on the way, after decades of the standards not having any significant update. The review of the standards and proposed changes was prompted by petitions from Toyota and the National Highway Traffic Safety Administration (NHTSA), who proposed an amendment last fall to allow manufacturers the option of equipping vehicles with ADB systems. AAA submitted comments to NHTSA regarding the proposed changes along with supporting primary research in an effort to provide insight into the performance of ADB as it exists today.
"AAA supports adaptive driving beam headlights and NHTSA's work in this area to consider changing the current standards," said Jenkins. "Allowing ADB will not only improve roadway visibility but the safety of every driver and pedestrian who must travel at night."

AAA Recommendations
A new headlight standard and testing protocol could still be a few years away, which means drivers should take other precautions when driving at night. AAA recommends:
When driving after dark on unlit roadways, use high beams whenever possible. There is a difference between seeing the roadway markings, signs, and other vehicles, versus being able to perceive a non?reflective object in your path.
Monitor and adjust driving speeds when traveling on unlit roads at night to allow enough time to detect, react and stop the vehicle in order to avoid striking a pedestrian, animal or object in the roadway.
If your car's headlamp lenses are anything but crystal clear, have them restored or replaced to improve light output.

AAA engages in research, surveys and a significant amount of automotive testing on new and emerging vehicle technologies to help educate the driving public and keep the roadways safe. Previous research in this area includes the use of high beam versus low beam (U.S. only) and the impact of deteriorated headlights on nighttime visibility.

About The Auto Club Group
The Auto Club Group (ACG) is the second largest AAA club in North America. ACG and its affiliates provide membership, insurance, financial services and travel offerings to over 9.9 million members across eleven states and two U.S. territories including Florida, Georgia, Iowa, Michigan, Nebraska, North Dakota, Tennessee, Wisconsin, Puerto Rico and the U.S. Virgin Islands; most of Illinois and Minnesota; and a portion of Indiana. ACG belongs to the national AAA federation with more than 59 million members in the United States and Canada and whose mission includes protecting and advancing freedom of mobility and improving traffic safety. Motorists can map a route, identify gas prices, find discounts, book a hotel, and access AAA roadside assistance with the AAA Mobile app for iPhone, iPad and Android. Learn more at AAA.com/mobile. Visit AAA on the Internet at AAA.com.