AAA Survey: Drivers now say $3.00 per gallon is too high; Last year it was $2.70
06 June 2019
Florida gas prices took an unexpected turn this week, rising an average of 6 cents. The increase came as a surprise, considering strong supply levels and continued weakness in crude and wholesale gasoline prices. However, it appears prices at the pump are stabilizing, and beginning to inch lower again.
Click here to read AAA's weekly Gas Price Brief for Monday, June 10, 2019.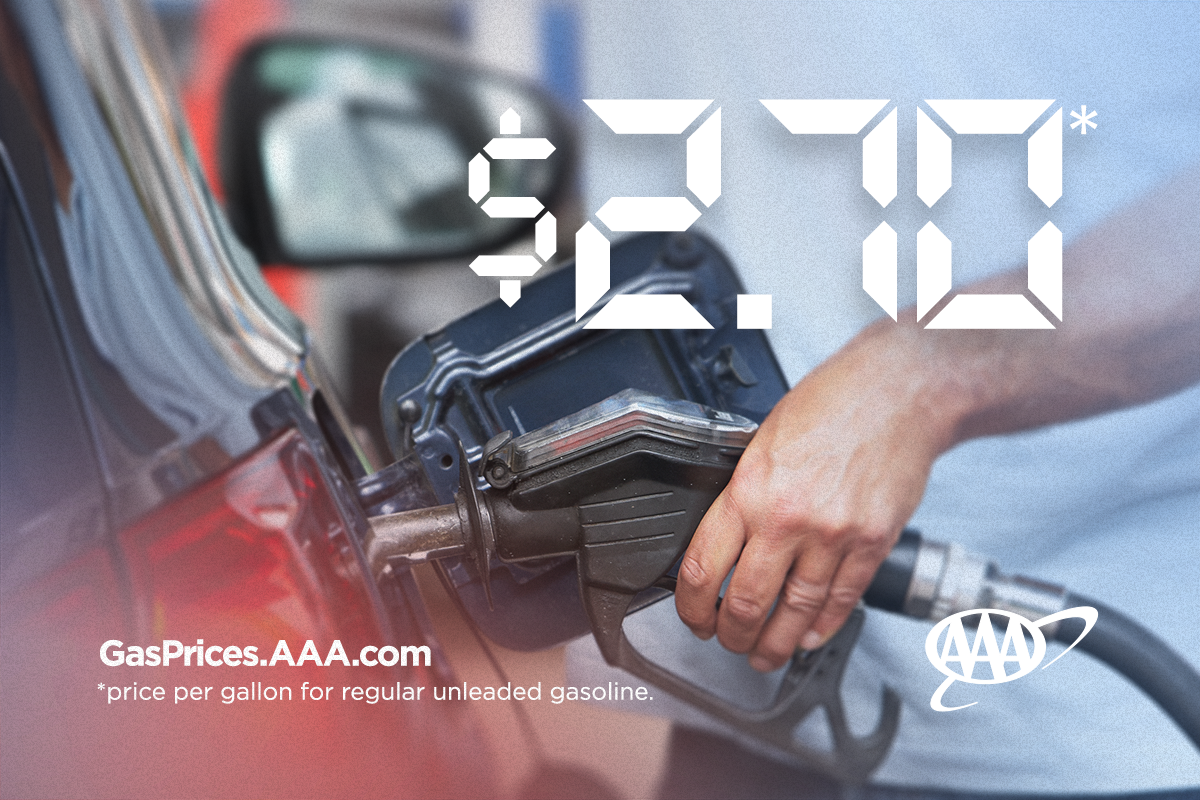 Florida drivers are now paying an average price of $2.62 per gallon. That price is 16 cents less than the national average, and 18 cents less this year's highest daily average price of $2.80/g. Follow national, state, and metro gas prices at GasPrices.AAA.com.
Summer Forecast
AAA forecasts U.S. gas prices will average $2.70 per gallon this summer. In Florida, the average could be 10 cents less. If that price holds, it would be the cheapest summer at the pump in two years.
During previous summer driving seasons (Memorial Day - Labor Day), Florida gas prices averaged $2.77/g in 2018, $2.27/g in 2017, and $2.20 in 2016.
How Much is Too Much?
When it comes to filling-up at the pump, Americans are changing their perception of what they consider "too expensive." AAA's 2019 Gas Price survey found that 50 percent of consumers think paying $3/gallon is too high. Last year, the answer was $2.70 per gallon. Americans' current threshold for high prices is now 50 cents higher than their feelings just three years ago, when half of Americans considered $2.50/g too expensive, in 2016.
Price When 50% of Consumers Consider Gas Prices 'Too High'
2016
2017
2018
2019

$2.50

$2.80

$2.70

$3.00
"The highest prices of the year could be in the rearview mirror," said Mark Jenkins, spokesman, AAA - The Auto Club Group. "With most refineries operating at normal levels, demand at robust rates, and cheaper crude oil prices; summer gas prices are poised to be a little less than last year."
Even with Americans being more tolerant of higher gas prices, you can still expect 74% of Americans to make lifestyle changes to offset increased pump prices. Of those, nearly a quarter (24 percent) say $2.75/g would motivate them to make the following changes:
Combine errands or trips - 65% (down from 79% in 2018)
Drive less – 60% (down from 73% in 2018)
Reduce shopping or dining out – 49% (down from 61% in 2018)
Delay major purchases – 43% (down from 50% in 2018)
Drive a more fuel efficient vehicle – 35% (down from 46% in 2018)
Crude + Demand Factors
The 2019 summer driving season began with crude oil prices that are much more favorable for drivers than last year.
2019 - After reaching a 2019 high of $66 per barrel in April, the price of WTI crude recently dropped to just below $52 per barrel.
2018 - The price of WTI ranged from $64 to $68 per barrel in the first few weeks of June. Eventually crude prices rose to $74 per barrel in July, which dragged Florida gas prices up to $2.80 per gallon.
The price of crude is a driving factor when it comes to retail gasoline prices, accounting for nearly 60% of the price motorists see at the pump year-round. While crude prices have been cheaper this year, AAA is monitoring a number of circumstances that could cause crude oil market prices to increase. This includes reductions in global and domestic crude supply, exports, and U.S. gasoline demand - all of which could be heavily influenced by an active hurricane season.
Crude Analysis
The International Energy Agency noted in its May 2019 Oil Markets Report that global crude supply decreased as a result of reduced exports from Canada, Iran and other major crude exporters. If the Organization of the Petroleum Exporting Countries (OPEC) and its partners, including Russia, decide to extend their current production reduction agreement of 1.2 million barrels per day through the end of 2019, that would further tighten the global crude market. OPEC extending its agreement will also likely lead to increased crude prices that would lead to higher gas prices. It could also entice U.S. crude producers to export more crude, which could tighten supplies in the U.S. and raise retail prices at home. OPEC and its partners will meet on June 25 and 26 in Vienna, where they are expected to announce if the agreement will remain in effect.
Demand Forecast
For domestic gasoline demand, summer 2019 is forecast to reach record-levels in the United States. Meanwhile, domestic gasoline stocks are at their lowest start to the month of June since 2016. If demand rises while gasoline stocks remain low, pump prices could see modest increases, especially if supply is tight in local markets. Moreover, the added threat of a major hurricane making landfall could also suppress demand, which could lead to lower gas prices.
Hurricane Season
The mere threat of a hurricane, especially one that threatens the shutdown of Gulf Coast refineries, can dramatically impact the price of crude and gasoline until normal operations resume. In 2017, Hurricane Harvey caused extensive flooding and disrupted Gulf Coast refinery operations. As a result, gas prices in Florida rose an average of 42 cents per gallon.
In its 2019 Atlantic hurricane season outlook, the National Oceanic and Atmospheric Administration's Climate Prediction Center said that warmer-than-average sea-surface temperatures in the tropical Atlantic Ocean and Caribbean Sea, ongoing El Niño conditions, and an enhanced West African monsoon could produce nine to 15 named storms – including four to eight hurricanes and two to four major hurricanes. An average hurricane season produces 12 named storms, of which six become hurricanes, including three major hurricanes.
Summary
As Americans settle into summer, many outliers could pave the way for unexpected price bumps, so stayed tuned. Motorists can always find the latest national and state gas price averages and trends at GasPrices.AAA.com. Florida gas prices can be found here. Weekly gas price analysis can be found at the new AAA Florida Newsroom.
About The Auto Club Group
The Auto Club Group (ACG) is the second largest AAA club in North America. ACG and its affiliates provide membership, insurance, financial services and travel offerings to over 9.9 million members across eleven states and two U.S. territories including Florida, Georgia, Iowa, Michigan, Nebraska, North Dakota, Tennessee, Wisconsin, Puerto Rico and the U.S. Virgin Islands; most of Illinois and Minnesota; and a portion of Indiana. ACG belongs to the national AAA federation with more than 59 million members in the United States and Canada and whose mission includes protecting and advancing freedom of mobility and improving traffic safety. Motorists can map a route, identify gas prices, find discounts, book a hotel, and access AAA roadside assistance with the AAA Mobile app for iPhone, iPad and Android. Learn more at AAA.com/mobile. Visit AAA on the Internet at AAA.com.