(Metro Atlanta Reporters are invited to AAA's Car Care Plus Center Tuesday at 1:00 p.m.)
10 November 2022
Media Alert

MEDIA CONTACT:

Montrae Waiters, AAA spokeswoman

The Auto Club Group

Cell (813) 244-0815, MWaiters@acg.aaa.com
AAA Thanksgiving Holiday Travel Forecast Press Event
What AAA wants you to know before you go!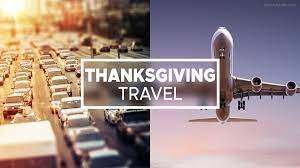 (Metro Atlanta Reporters are invited to AAA's Car Care Plus Center Tuesday at 1:00 p.m.)
WHY:
Be the first to hear AAA Georgia Thanksgiving Holiday Travel Forecast!
AAA predicts millions of Georgians will travel this Thanksgiving holiday. Whether traveling by car or flying the friendly skies, this press event is designed to provide Thanksgiving holiday stats, car care, travel tips, and announce AAA's Move Over For Me campaign to the media.
WHO:
AAA automotive experts will invite reporters into the garage to explain concerns drivers may have this Thanksgiving and why they should not wait until the last minute to ensure their vehicle is road trip ready. Representatives from AAA Travel, Emergency Roadside Assistance, and Public Affairs will be available for media interviews.
WHEN:
Tuesday, November 15, 2022, at 1:00 p.m.
WHERE:
AAA Chastain Park Car Care Plus
4410 Roswell Rd
Atlanta, GA 30342
Learn about AAA's "Move Over For Me" initiative, which looks to broaden awareness of Georgia's "Move Over" law to protect all motorists.
Video: Move Over for Me PSA
(Note: AAA Georgia will release the Thanksgiving Travel Forecast to media statewide on Tuesday, November 15th after the press event.)
Visit the AAA Georgia Newsroom
Twitter @AAAGeorgia
About AAA - The Auto Club Group
The Auto Club Group (ACG) is the second largest AAA club in North America with more than 13 million members across 14 U.S. states, the province of Quebec and two U.S. territories. ACG and its affiliates provide members with roadside assistance, insurance products, banking and financial services, travel offerings and more. ACG belongs to the national AAA federation with more than 62 million members in the United States and Canada. AAA's mission is to protect and advance freedom of mobility and improve traffic safety. For more information, get the AAA Mobile app, visit AAA.com, and follow us on Facebook, Twitter and LinkedIn.