Hunter Eichhorn is recognized by the largest safety program in the world
08 June 2021
A Crystal River fifth-grader is receiving top honors from AAA – The Auto Club Group. Hunter Eichhorn was named "AAA School Safety Patroller of the Year" for the 2020-21 school year in Florida.
Eichhorn attended Crystal River Primary School in Citrus County. He is one of thousands of Florida students who participate in the AAA School Safety Patrol program, which AAA created 100 years ago.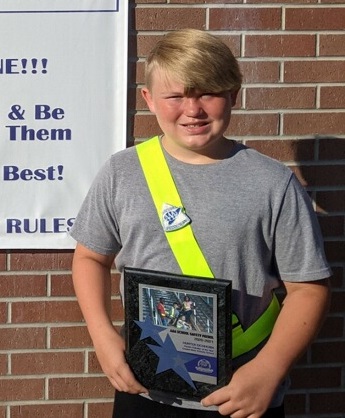 "I feel like participating in Safety Patrol has helped me become a better leader," Eichhorn said. "It is easy to remind younger students of what they should be doing, but it is a lot harder to remind my friends and classmates. Sometimes it even changed how people felt about being my friend. That was difficult at first, but I think I have become a better leader because of it."
Hunter's Contributions:
Co-Captain of Crystal River's AAA School Safety Patrol squad
Assists in training patrol members
Ensures students follow school Covid-19 guidelines
Oversees student safety at school bus and parent pick-up/drop-off lines
Spent his spring break assembling boxes of food to feed the homeless
Created safety videos for students, including tips to stay safe when trick-or-treating on Halloween
"Hunter Eichhorn is a tremendous representative of the AAA School Safety Patrol Program and very deserving of this award," said Matt Nasworthy, Florida Public Affairs Director, AAA – The Auto Club Group. "He exemplifies the type of leadership qualities and safety skills of a great safety patroller. We are so proud of Hunter's contributions and wish him the best of luck in the 6th grade."
The AAA School Safety Patroller of the Year Award recognizes the patroller who best exemplifies the leadership qualities, good citizenship, school involvement, and application of safety skills vital to effectively and responsibly wear the AAA School Safety Patrol badge. Each year, AAA is proud to recognize and award the AAA School Safety Patroller of the Year Award. Only one deserving patrol member per state earns this annual award.
AAA School Safety Patrol Program Turns 100
The AAA School Safety Patrol program is the largest safety program in the world! Each year, more than 670,000 children participate at over 35,000 schools throughout the country. For 100 years, AAA has sponsored the AAA School Safety Patrol program, which instills students with a sense of responsibility, leadership and citizenship. AAA provides an array of equipment and material, including electric-lime fluorescent belts, nickel plated steel badges and training for the AAA School Safety Patrollers. When properly uniformed and trained, they can assist their grade school classmates by ensuring their safety to and from school every day.
The program has been praised by safety and education groups around the globe for reducing injuries and deaths among 5-to-14 year olds, the age group most at risk for pedestrian injury. In addition to keeping students safe, the program teaches lifelong lessons of responsibility, leadership and good citizenship.
AAA School Safety Patrol members are school-sponsored student volunteers from upper elementary grades, middle and junior high schools. Patrollers direct children, not traffic. As school-age leaders in traffic safety, patrol members teach other students about traffic safety on a peer-to-peer basis. They also serve as models for younger children, who look up to them.
School Safety Patrollers:
Complete training in traffic safety.
Protect students from hazards of crossing roads and highways on their way to and from school.
Assist bus drivers in safely transporting students to and from school.
Teach fellow students about traffic safety.
Serve in other leadership roles under the direction of school officials.
Typically, teachers and principals appoint patrol members, who participate with parental approval. A teacher usually serves as the patrol advisor. Local law enforcement officers may also be involved with patrols. Click here to learn more.
About AAA - The Auto Club Group
The Auto Club Group (ACG) is the second largest AAA club in North America with more than 14 million members across 14 U.S. states, the province of Quebec and two U.S. territories. ACG and its affiliates provide members with roadside assistance, insurance products, banking and financial services, travel offerings and more. ACG belongs to the national AAA federation with more than 62 million members in the United States and Canada. AAA's mission is to protect and advance freedom of mobility and improve traffic safety. For more information, get the AAA Mobile app, visit AAA.com, and follow us on Facebook, Twitter and LinkedIn.