The state average is 9 cents less than a week ago
19 February 2023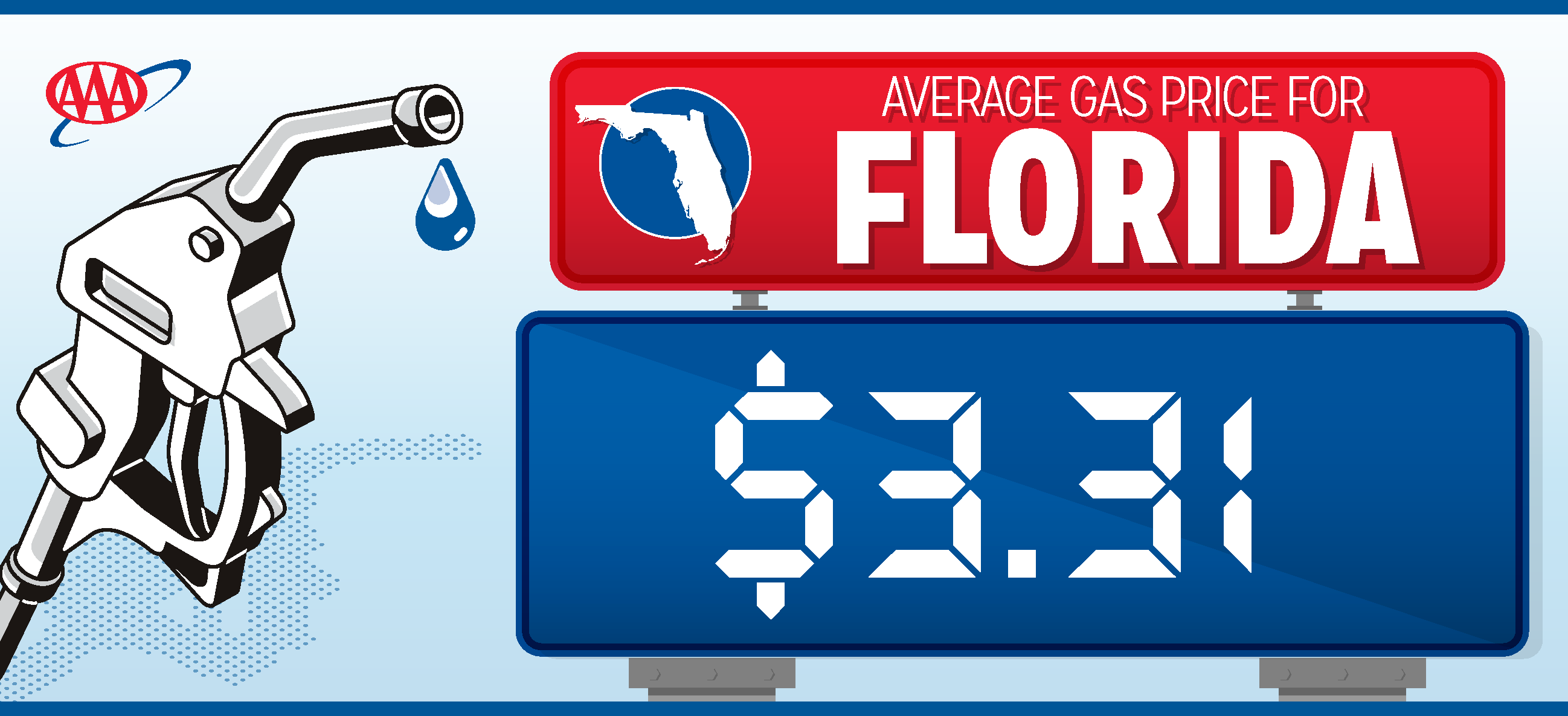 Florida gas prices shrugged off upward pressure and sank another 9 cents per gallon last week. The state average has now declined for three consecutive weeks, falling a total of 28 cents per gallon since late January.
On Sunday, Florida gas prices averaged $3.31 per gallon. That's the lowest daily average price since mid-January. It's a nickel more than this year's low of $3.24 per gallon, and well below the 2023 high of $3.58.
"The fuel market is on a downward trend due to a combination of rising global oil supplies and renewed concerns that the U.S. Federal Reserve will pass another interest rate hike in effort to curb inflation," said Mark Jenkins, spokesman, AAA - The Auto Club Group. "This has already been a volatile year for prices at the pump, and that's likely to continue in the coming months. Gas prices normally increase in the spring as Americans take road trips, which drives up fuel demand. At the same time, refineries conduct springtime maintenance and begin making summer gasoline, which is more expensive to produce."
Oil and gasoline futures prices dropped last week. The price for U.S. oil declined 4%, settling at $76.34 per barrel. That's the lowest daily settlement in two weeks. Meanwhile, gasoline futures also hit a 2-week low after dropped 10 cents per gallon. Unless there are lagging effects of last week's oil price hike, gas prices should decline again this week.
Regional Prices
Most expensive metro markets – West Palm Beach-Boca Raton ($3.57), Naples ($3.47), Miami ($3.43)
Least expensive metro markets – Panama City ($3.15), Crestview-Fort Walton Beach ($3.16), Orlando ($3.20)
Ways to Save on Gasoline
Combine errands to limit driving time.
Shop around for the best gas prices in your community.
Pay with cash. Some retailers charge extra per gallon for customers who pay with a credit card.
Remove excess weight in your vehicle. Every 100 pounds taken out of the vehicle improves fuel economy by 1-2 percent.
Drive conservatively. Aggressive acceleration and speeding reduces fuel economy.
AAA Resources for Drivers
Find Florida Gas Prices
AAA GAS PRICE AVERAGES
(Price per gallon of regular unleaded gasoline)
Sunday
Saturday
Week Ago
Month Ago
One Year Ago
National
$3.413
$3.417
$3.419
$3.379
$3.529
Florida
$3.305
$3.318
$3.398
$3.403
$3.502
Georgia
$3.220
$3.226
$3.258
$3.207
$3.375
Click here to view current gasoline price averages

Gas Price Survey Methodology
AAA updates fuel price averages daily at www.GasPrices.AAA.com. Every day up to 130,000 stations are surveyed based on credit card swipes and direct feeds in cooperation with the Oil Price Information Service (OPIS) and Wright Express for unmatched statistical reliability. All average retail prices in this report are for a gallon of regular, unleaded gasoline.
About AAA - The Auto Club Group
The Auto Club Group (ACG) is the second largest AAA club in North America with more than 13 million members across 14 U.S. states, the province of Quebec and two U.S. territories. ACG and its affiliates provide members with roadside assistance, insurance products, banking and financial services, travel offerings and more. ACG belongs to the national AAA federation with more than 62 million members in the United States and Canada. AAA's mission is to protect and advance freedom of mobility and improve traffic safety. For more information, get the AAA Mobile app, visit AAA.com, and follow us on Facebook, Twitter and LinkedIn.