Lauren Leonard was recognized by the largest safety program in the world
20 May 2019
Jacksonville-area fifth-grader, Lauren Leonard received one of AAA's top honors, the "AAA School Safety Patroller of the Year" award. This award is presented to one Florida student every year, out of a field of thousands of safety patrollers in the state.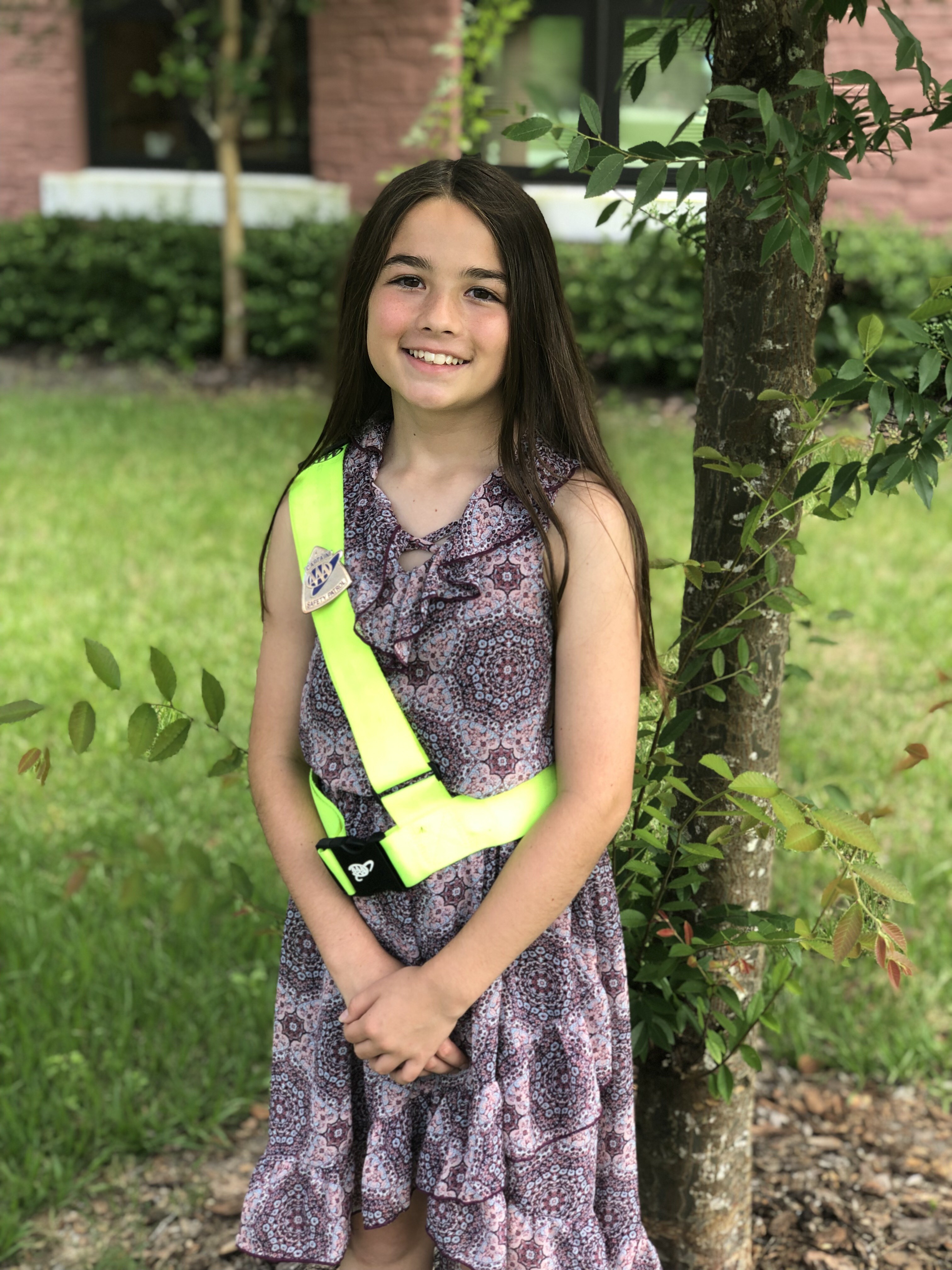 "I love being a patroller because I can help others," Leonard said. "I can reward patrols for doing all of the amazing things they do, and I can keep kids safe."
Leonard, a student at Patriot Oaks Academy in St. John's, Florida, was selected based on her leadership qualities, safety skills, school involvement, citizenship and volunteerism. In addition to helping students get into-and-out of school safely, Leonard captains the team of fellow student safety patrollers.
"Lauren is a born leader and super star," said Leonard's fifth grade teacher, Sara Greenfield. "She leads with passion and is very supportive of her peers and the patrol team."
In addition to her own patrol duties, Leonard created a student-driven weekly celebration to recognize her peers with Patrol certificates and ribbons. She is also instrumental in various school fundraiser programs, including those that raise money for the patrol program itself, and one that helped pay for Patriot Oaks Academy's first mascot.
Lauren volunteers at the St. Francis House and makes dinners for the homeless with her Girl Scout troop. She is actively involved in the HUGS program and spends time reading to children. Through her active work with St. Johns Cares, she raised $60.00 for disabled veterans.
"Lauren is a tremendous representative of the AAA School Safety Patrol Program and very deserving of this award," said Matt Nasworthy, Florida Public Affairs Director, AAA – The Auto Club Group. "It is truly inspiring to see all the great things she has accomplished at such a young age, including her contributions to the safety patrol program itself."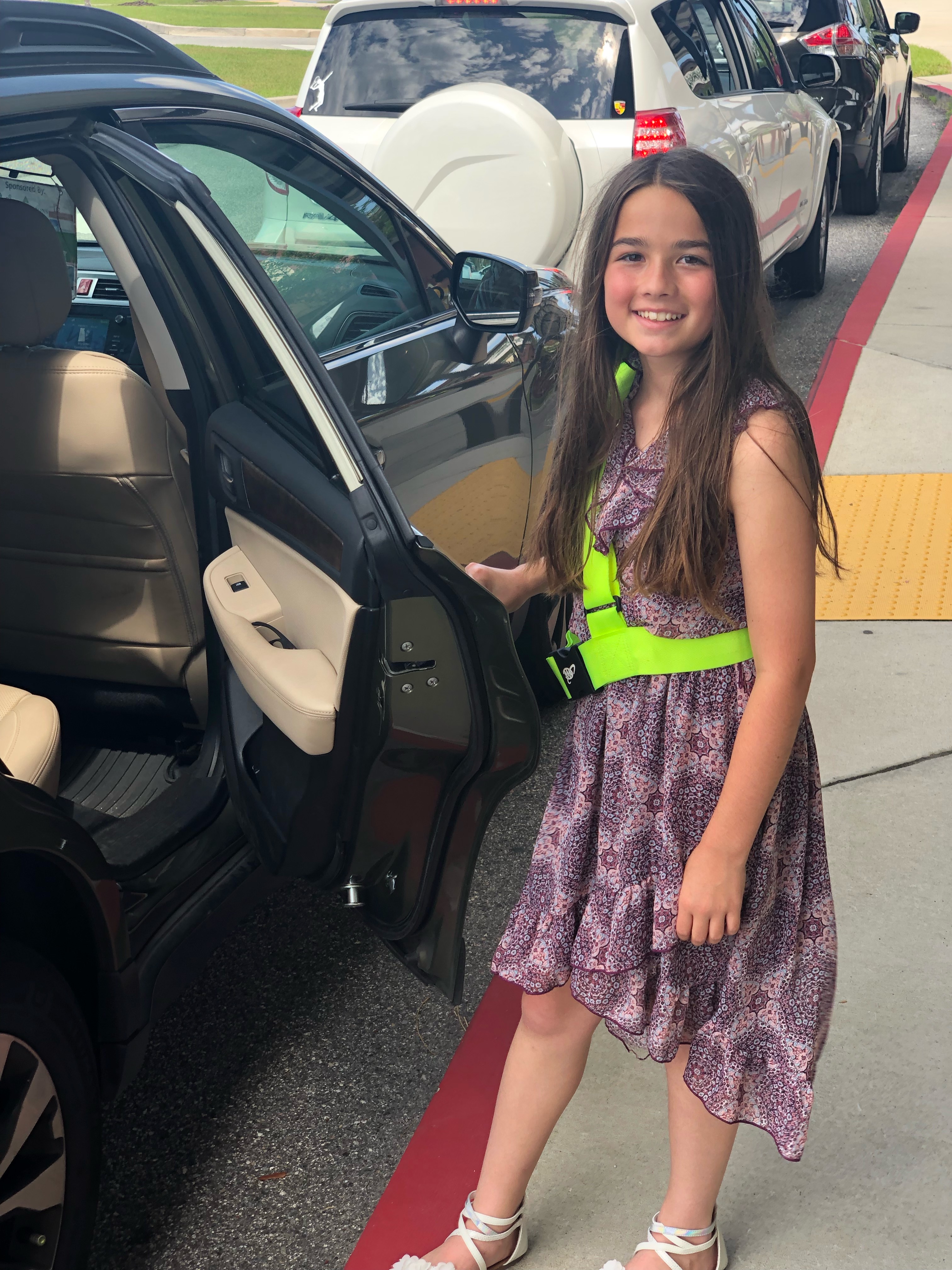 About the AAA School Safety Patrol Program
The AAA School Safety Patrol program is the largest safety program in the world! Each year, more than 679,000 children participate at over 35,000 schools throughout the country. For more than 99 years, AAA has sponsored the AAA School Safety Patrol program, which instills students with a sense of responsibility, leadership and citizenship. AAA provides an array of equipment and material, including electric-lime fluorescent belts, nickel plated steel badges and training for the AAA School Safety Patrollers. When properly uniformed and trained, they can assist their grade school classmates by ensuring their safety to and from school every day.
The program has been praised by safety and education groups around the globe for reducing injuries and deaths among 5-to-14 year olds, the age group most at risk for pedestrian injury. In addition to keeping students safe, the program teaches lifelong lessons of responsibility, leadership and good citizenship. The Auto Club Group Traffic Safety Foundation's goal is to continue fostering this vital program, which develops tomorrow's leaders today.
AAA School Safety Patrol members are school-sponsored student volunteers from upper elementary grades, middle and junior high schools.
Patrollers direct children, not traffic. As school-age leaders in traffic safety, patrol members teach other students about traffic safety on a peer-to-peer basis. They also serve as models for younger children, who look up to them.
School Safety Patrol members:
Complete training in traffic safety.
Protect students from hazards of crossing roads and highways on their way to and from school.
Assist bus drivers in safely transporting students to and from school.
Teach fellow students about traffic safety.
Serve in other leadership roles under the direction of school officials.
Typically, teachers and principals appoint patrol members, who participate with parental approval. A teacher usually serves as the patrol advisor. Local law enforcement officers may also be involved with patrols. Click here to learn more.
About The Auto Club Group
The Auto Club Group (ACG) is the second largest AAA club in North America. ACG and its affiliates provide membership, insurance, financial services and travel offerings to over 9.9 million members across 11 states and two U.S. territories including Florida, Georgia, Iowa, Michigan, Nebraska, North Dakota, Tennessee, Wisconsin, Puerto Rico and the U.S. Virgin Islands; most of Illinois and Minnesota; and a portion of Indiana. ACG belongs to the national AAA federation with more than 59 million members in the United States and Canada and whose mission includes protecting and advancing freedom of mobility and improving traffic safety. Motorists can map a route, identify gas prices, find discounts, book a hotel, and access AAA roadside assistance with the AAA Mobile app for iPhone, iPad and Android. Learn more at AAA.com/mobile. Visit AAA on the Internet at AAA.com.