AAA surveys Floridians on bicycle habits; Urges bicyclists and motorists to share the road safely
24 May 2019
Although National Bike Safety Month is almost over, AAA urges people to share the road safely all year - whether they are on two wheels or more.
Each year about 2 percent of deaths in motor vehicle crashes are bicyclists. Although child bicyclist deaths have declined over the years, deaths among bicyclists age 20 and older have tripled since 1975.
Florida leads the nation in bicycle fatalities. The latest figures from the National Highway Traffic Safety Administration shows 783 pedalcyclists were killed in the U.S. in 2017; 125 (16%) were in Florida.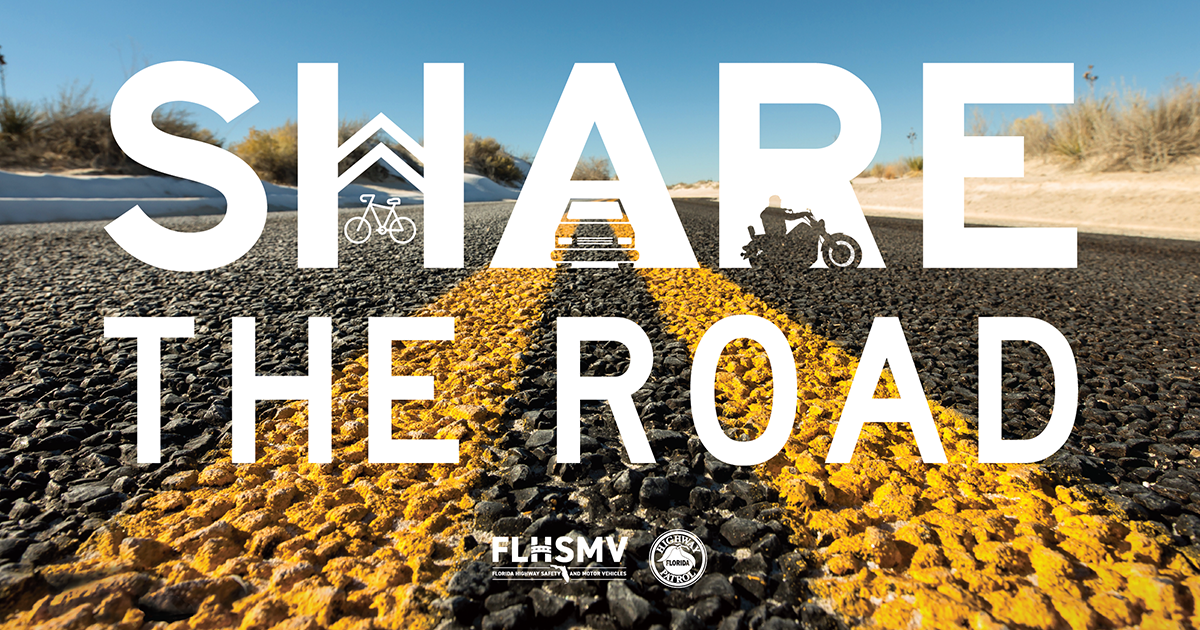 Most commonly reported factors for bicycle fatalities:
Failure to yield right of way — 38%
Not visible (dark clothing, no lighting, etc.) — 10%
Failure to obey traffic signs, signals, or officer — 8%
Making improper turn — 8%
"Motorists and cyclists play an equal part in sharing the road," said Mark Jenkins, spokesman, AAA - The Auto Club Group. "While motorists need to eliminate distractions and watch for people on bikes, cyclists can do their part by wearing a helmet and bright colored clothing."
According to a recent AAA survey of Florida cyclists:
36% do not wear a helmet while riding a bicycle
56% ride with traffic; 21% ride against traffic
74% of those who ride against traffic do so because they prefer to see approaching vehicles
"Bicyclists who do not go with the flow of traffic are putting their lives in danger," Jenkins continued. "Although it may be more comforting for a cyclist to see approaching motorists, this creates scenarios where drivers may not see them. That's because drivers do not always check for wrong-way traffic before entering an intersection. Traffic laws and safety recommendations are there to help protect you the next time you take a spin."
Florida Laws on Bicycles
Motorists are required to give at least three feet of space when passing a bicyclist
Bicyclists 16 years old must wear a helmet
Bicyclists should operate on the right side of the road; in a bicycle lane if applicable
Bicycles operating in the dark should have a light on the front and back
Bicycles may operate on sidewalks, but pedestrians have the right of way
Read more about Florida's bicycle laws
Truth About Helmets
Helmets are important for riders of all ages, not just young bicyclists. According to the IIHS, Eighty-six percent of bicyclist deaths are persons ages 20 and older. During the past few years, no more than 17 percent of fatally injured bicyclists were wearing helmets. Although bicyclists' deaths have decreased 23 percent since 1975, they have increased 25 percent since reaching their lowest point in 2010.
Bicyclist Safety Tips
Ride on the roadway or shared pathways, rather than on sidewalks.
Follow the same rules of the road as other roadway users, including riding in the same direction as traffic and following all the same traffic signs and signals
Signal all turns
Wear a properly fitted bicycle helmet every time and on every ride
Be visible by wearing bright colors during the day, reflective gear in low light conditions and use head and tail lights at night
Respect is a two-way street. Show motorists the same courtesy you expect from them.
Motorists' concerns about riding near bicyclists:
Not having enough room to drive around bicycle riders — 53%
Bicycle riders swerving/falling into traffic — 53%
Not seeing the bicycle rider — 35%
Bicycle riders being in the middle of traffic lanes — 34%
Motorist Safety Tips
Stay alert — avoid all distractions while driving
Yield to bicyclists while turning
In bad weather, give bicyclists extra passing room, just as you would other motorists
Look for bicyclists by checking mirrors and blind spots before entering or leaving a lane of traffic
Slow down and give at least three feet of clearance when passing
Reduce your speed when passing bicyclists, especially when the road is narrow
NEVER honk your horn at a bicyclist — it could cause them to swerve into traffic or off the roadway and crash
Always check for bicyclists before opening your car door
Children on bicycles are often unpredictable — expect the unexpected and look out for them
To provide an additional level of safety for bicyclists, AAA – The Auto Club Group offers bicycle roadside service with all membership levels, allowing riders who encounter a mechanical problem on the road to call AAA for assistance. Visit AAA.com for more information.
About the AAA Consumer Pulse™ Survey
The AAA Consumer Pulse™ Survey was conducted online among residents living in The Auto Club Group territory from April 3, 2019 – April 6, 2019. A total of 400 Florida residents completed the survey. Results have a margin of error of ± 6.1 percentage points. Responses are weighted by age to ensure reliable and accurate representation of the adult population (18+).
About The Auto Club Group
The Auto Club Group (ACG) is the second largest AAA club in North America. ACG and its affiliates provide membership, insurance, financial services and travel offerings to over 9.9 million members across 11 states and two U.S. territories including Florida, Georgia, Iowa, Michigan, Nebraska, North Dakota, Tennessee, Wisconsin, Puerto Rico and the U.S. Virgin Islands; most of Illinois and Minnesota; and a portion of Indiana. ACG belongs to the national AAA federation with more than 59 million members in the United States and Canada and whose mission includes protecting and advancing freedom of mobility and improving traffic safety. Motorists can map a route, identify gas prices, find discounts, book a hotel, and access AAA roadside assistance with the AAA Mobile app for iPhone, iPad and Android. Learn more at AAA.com/mobile. Visit AAA on the Internet at AAA.com.