Kevin Williams is awarded AAA School Safety Patrol 'Advisor of the Year'
17 March 2021
Video for Media - Teacher Sound Bites / School Safety Patrol B-Roll
Orlando teacher Kevin Williams is receiving national honors this week. The 4th grade math and science teacher is being recognized by AAA for his 17 years spent teaching students about traffic safety and leadership.
Williams leads the AAA School Safety Patrol program at Castle Creek Elementary School. Because of his leadership, more than 125 student lives were saved at the school's car and bus ramp, just in the past two years alone. That's one of the many reasons Williams is being recognized as the AAA School Safety Patrol "Advisor of the Year". Click here to view/download Kevin Williams sound bites.
"The benefits of patrolling also go way beyond the school walls," said Kevin Williams. "I have lead over 460 patrols under my 17 years of leadership. That is over 460 more people in the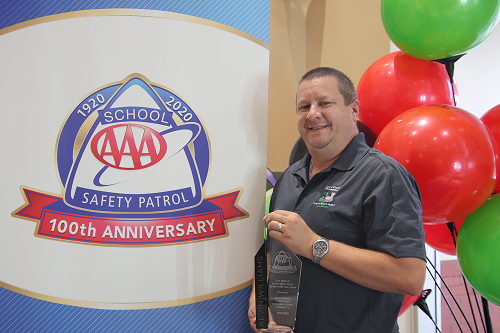 community who are motivated to be safe, not just for themselves and their family, but for the community that they live in."
Throughout March, the AAA School Safety Patrol is celebrating its centennial anniversary. As part of the celebration, current and former safety patrollers are encouraged to visit their local AAA branch for a free commemorative item while supplies last.
The AAA School Safety Patrol is the largest school-based safety program in the world, with more than 679,000 Patrollers in 35,000 schools across the United States. Safety patrollers are typically fifth graders, selected by advisors at their school. Patrollers wear those bright neon safety belts while protecting classmates at street crossings, bus and car drop-offs, and in the halls at school.
"A critical part of this program's success are teachers like Kevin Williams, who dedicate their time to mentor these young student safety patrollers," said Mark Jenkins, spokesman, AAA – The Auto Club Group. "Kevin has dedicated nearly two decades to this program and has changed so many lives, whether it be the students who participate in the program or the 125 student lives they rescued."
In addition to their lifesaving duties, patrollers learn the importance of teamwork and develop self-confidence and a sense of responsibility. Former patrollers have grown to become presidents, governors, astronauts, doctors, and CEOs. Even President Joe Biden was once a safety patroller.
How Schools Can Participate in the Program
Since 1920, AAA provides various equipment and education materials to Patrollers, including reflective belts, patrol badges and training resources. To learn how to bring the AAA School Safety Patrol to your school, email AAASchoolSafetyPatrol@acg.aaa.com.