Kaylee Vered, 5th Grader at Parkside Elementary School, shines the brightest in essay contest
17 May 2019
NEWS RELEASE

CONTACT:

Montrae Waiters, AAA spokeswoman, The Auto Club Group,
office (813) 289-5859, cell (813) 244-0815
MWaiters@AAASouth.com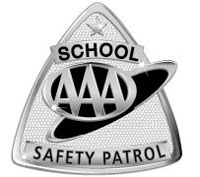 PARKSIDE STUDENT WINS GEORGIA AAA SCHOOL SAFETY PATROLLER OF THE YEAR AWARD
Kaylee Vered, 5th Grader at Parkside Elementary School, shines the brightest in essay contest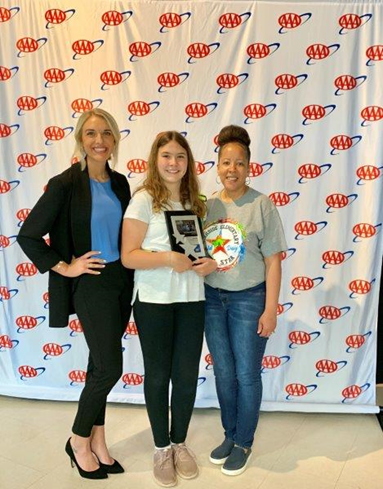 (From left to right: Brittany Floyd, AAA-The Auto Club Group, Kaylee Vered, award recipient and Tracie Brown, counselor, Parkside Elementary)
ATLANTA, Ga. (May 17, 2019 ) — AAA is proud to recognize and award Kaylee Vered from Parkside Elementary School in Atlanta, Georgia with the AAA School Safety Patroller of the Year Award. Only one deserving patrol member, per state, in The Auto Club Group's territory wins the annual award.
The AAA School Safety Patroller of the Year Award recognizes the patroller who best exemplifies leadership qualities, good citizenship, school involvement, and application of safety skills vital to effectively and responsibly wear the AAA School Safety Patrol™ badge. During the nomination process, students were carefully chosen by their teacher, principal, or school safety patrol coordinator and then judged based on their performance with leadership qualities, safety skills, school involvement, and citizenship. This year, one person was selected as the winner from their essay entry that described, "How participating in the AAA School Safety Patrol™ program helped they become a better leader."
AAA-The Auto Club Group presented Kaylee Vered with an Apple iPad and a plaque on Friday, May 17th, 2019 at 9:00 a.m. at Parkside Elementary School.
"Kaylee has been an AAA School Safety Patroller for the past year and consistently exemplifies quality leadership skills. She has developed into an impressive leader who has earned the respect of students and staff. Kaylee is extremely dedicated to the program, volunteers her time and is an excellent student," said Montrae Waiters, spokeswoman, AAA- The Auto Club Group."
The AAA School Safety Patrol program is the largest safety program in the world.
Since its inception in 1920, the AAA School Safety Patrol program, has provided a safer environment and wide spectrum of educational opportunities for millions of school children. Each year, more than 654,000 children participate at over 34,500 schools throughout the country.
For 99 years, AAA has sponsored the AAA School Safety Patrol program, which instills students with a sense of responsibility, leadership and citizenship. AAA provides an array of equipment and material, including electric-lime fluorescent belts, nickel plated steel badges and training for the AAA School Safety Patrollers. When properly uniformed and trained, they can assist their grade school classmates by ensuring their safety to and from school every day.
The program has been praised by safety and education groups around the globe for reducing injuries and deaths among 5-to-14 year olds, the age group most at risk for pedestrian injury. In addition to keeping students safe, the program teaches lifelong lessons of responsibility, leadership and good citizenship. AAA's goal is to continue fostering this vital program, which develops tomorrow's leaders today.
About The Auto Club Group
The Auto Club Group (ACG) is the second largest AAA club in North America. ACG and its affiliates provide membership, insurance, financial services and travel offerings to over 9.9 million members across eleven states and two U.S. territories including Florida, Georgia, Iowa, Michigan, Nebraska, North Dakota, Tennessee, Wisconsin, Puerto Rico and the U.S. Virgin Islands; most of Illinois and Minnesota; and a portion of Indiana. ACG belongs to the national AAA federation with more than 59 million members in the United States and Canada and whose mission includes protecting and advancing freedom of mobility and improving traffic safety. Motorists can map a route, identify gas prices, find discounts, book a hotel, and access AAA roadside assistance with the AAA Mobile app for iPhone, iPad and Android. Learn more at AAA.com/mobile. Visit AAA on the Internet at AAA.com.