Don't Drive Impaired; Call (855) 2-TOW-2-GO for a Safe Ride
10 March 2023
MEDIA ALERT

MEDIA CONTACT:

Montrae Waiters, AAA spokeswoman

The Auto Club Group

Cell (813) 244-0815, MWaiters@acg.aaa.com
Savannah! AAA Activates 'Tow to Go' for St. Patrick's Day
Don't Drive Impaired; Call (855) 2-TOW-2-GO for a Safe Ride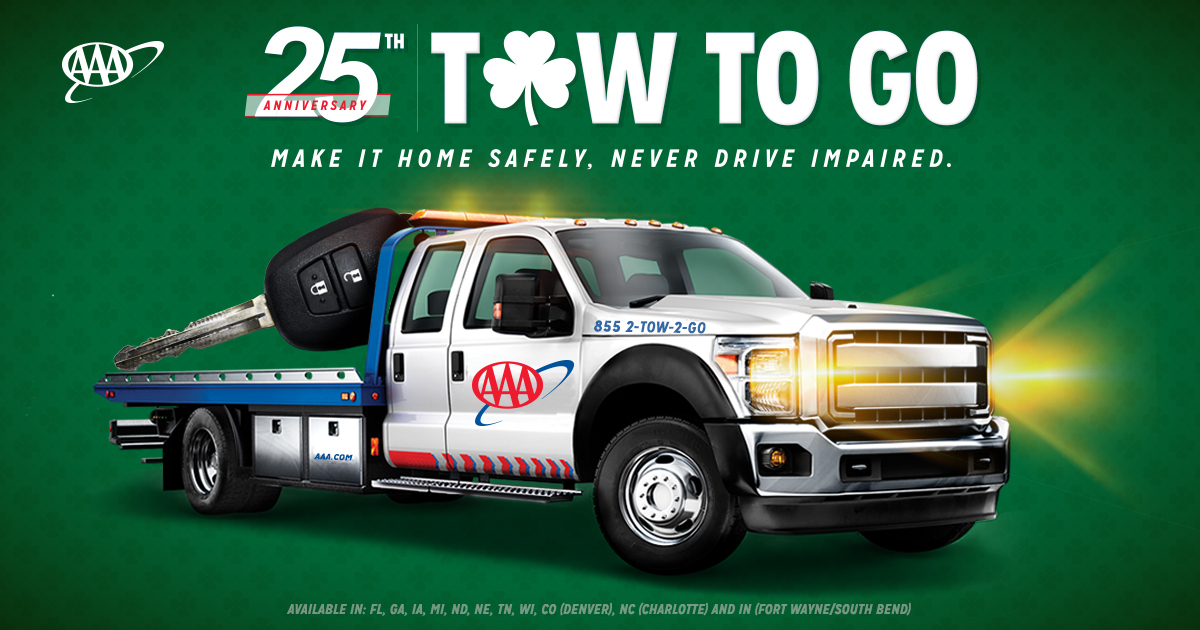 (Savannah Reporters are invited to the Tow to Go press event, Wed., March 15th)
WHY:
This press event will highlight the dangers of impaired driving and provide alternative resources for drivers to get home safely.
As St. Patrick's Day approaches this month, it's imperative that drivers take steps to stay off the road if they are impaired. According to the National Highway Traffic Safety Administration (NHTSA), St. Patrick's Day is one of the deadliest holidays on U.S. roadways. In 2020, more than 11,000 people died in drunk-driving crashes. Those deaths could have been avoided if the impaired drivers found a safe ride home instead of driving drunk (NHTSA). Alcohol, drugs, and even prescription medications can affect your ability to drive and cause unnecessary risks for everyone on the roadway.
WHO:
AAA-Georgia will hold a Savannah "Tow to Go" press event. Representatives from Georgia State Patrol, Local Law Enforcement, and AAA Public Affairs will be available for media interviews.
WHEN:
Wednesday, March 15, 2023, at 10:00 a.m.
WHERE:
AAA Savannah
712 Mall Boulevard
Savannah, GA 31406
Visit the AAA Georgia Newsroom
Twitter @AAAGeorgia
About AAA - The Auto Club Group
The Auto Club Group (ACG) is the second largest AAA club in North America with more than 13 million members across 14 U.S. states, the province of Quebec and two U.S. territories. ACG and its affiliates provide members with roadside assistance, insurance products, banking and financial services, travel offerings and more. ACG belongs to the national AAA federation with more than 62 million members in the United States and Canada. AAA's mission is to protect and advance freedom of mobility and improve traffic safety. For more information, get the AAA Mobile app, visit AAA.com, and follow us on Facebook, Twitter and LinkedIn.