The period, which runs from Memorial Day to Labor Day, results in the largest number of crash fatalities involving a teen driver
30 May 2019
B-ROLL - Distracted Teen Drivers / AAA Teen Driver Training Sessions
TAMPA, Fla., (May 30, 2019) – The "100 Deadliest Days" involving teen drivers begins this week. From Memorial Day to Labor Day, traffic deaths involving teen drivers spike, with an average of seven people killed per day.
In the past five years, the following occurred during the "100 Deadliest Days":
A total of nearly 3,500 people were killed in crashes involving teen drivers
An average nearly 700 people (seven per day) died each year in crashes involving teen drivers
The average number of deaths from crashes involving teen drivers ages 15-18 was 17 percent higher per day compared to other days of the year
Crashes for teen drivers increase significantly during the summer, because inexperienced teenage drivers are out of school and on the road more often. Despite the staggering statistics, research from the AAA Foundation for Traffic Safety found that nearly two-thirds of people injured or killed in a crash involving a teen driver are people other than the teen behind the wheel.
"Statistics like these can make for an unsettling summer for parents of teenage drivers," said Mark Jenkins, spokesman, AAA - The Auto Club Group. "The combination of inexperience and more time on the road, especially at night, gives teens a higher probability of being in crashes. AAA urges parents to lead by example when driving, and talk to their teens about the importance of being safe and avoiding reckless behaviors."
THREE MAJOR CONTRIBUTING FACTORS TO FATAL TEENAGER CRASHES
According to new crash data from 2013-2017, the major contributing factors to fatal teen crashes during the summer driving period are:
Speeding (28 percent)
Drinking and driving (17 percent)
Distraction (9 percent)
SPEEDING
Speeding significantly increases the severity of a crash and is a growing problem among teen drivers. In the AAA Foundation's latest Traffic Safety Culture Index, half (49.7 percent) of teen drivers reported speeding on a residential street in the past 30 days and nearly 40 percent say they sped on the freeway.
DRINKING AND DRIVING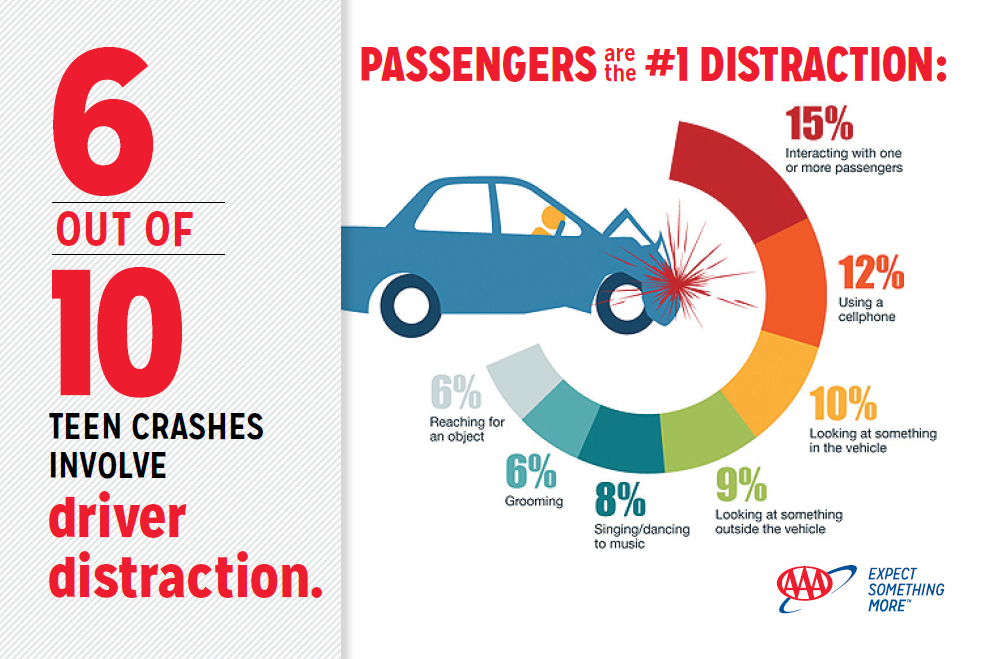 Despite the fact that teens cannot legally consume alcohol, one in six teen drivers involved in fatal crashes during the summer tested positive for alcohol.
DISTRACTION - AN UNDERREPORTED PROBLEM
More than half of teen drivers (52 percent) in the AAA Foundation's latest Traffic Safety Culture Index report reading a text message or email while driving in the past 30 days and nearly 40 percent report sending a text or email. It is difficult for law enforcement to detect distraction following a crash, which has made distracted driving one of the most underreported traffic safety issues.
Additional AAA Foundation research using in-vehicle dash-cam videos of teen driver crashes found distraction was involved in 58 percent of teen crashes, approximately four times as many as federal estimates. Driving with other passengers younger than 21 topped the list of all distractions, causing even more crashes than cell phones.
"When young drivers share the car with their friends, the focus can easily shift away from the road; dramatically reducing their ability to react to a hazard ahead," said Jenkins. "AAA urges teens to be good passengers. Help the driver stay focused, and assist them as needed with adjustments to things like the AC, music or GPS."
HOW TO CURB THE PROBLEM
AAA encourages parents to:
Talk with teens early and often about abstaining from dangerous behavior behind the wheel, such as speeding, impairment and distracted driving.
Teach by example and minimize risky behavior when driving.
Make a parent-teen driving agreement which sets family rules for teen drivers.
"Parents can do so much in setting teens up to be a safe driver, yet it's the teens themselves who are ultimately responsible for practicing safe driving habits," said Jenkins. "AAA urges all drivers to store their phones out of reach, mind the speed limit, and stay away from impairing substances like alcohol and marijuana. This can help prevent many crashes from ever occurring."
TeenDriving.AAA.com has a variety of tools to help prepare parents and teens for the dangerous summer driving season. The online AAA StartSmart program also offers great resources for parents on how to become effective in-car coaches as well as advice on how to manage their teen's overall driving privileges. Teens preparing for the responsibility of driving should enroll in a driver education program that teaches how to avoid driver distraction and other safety skills.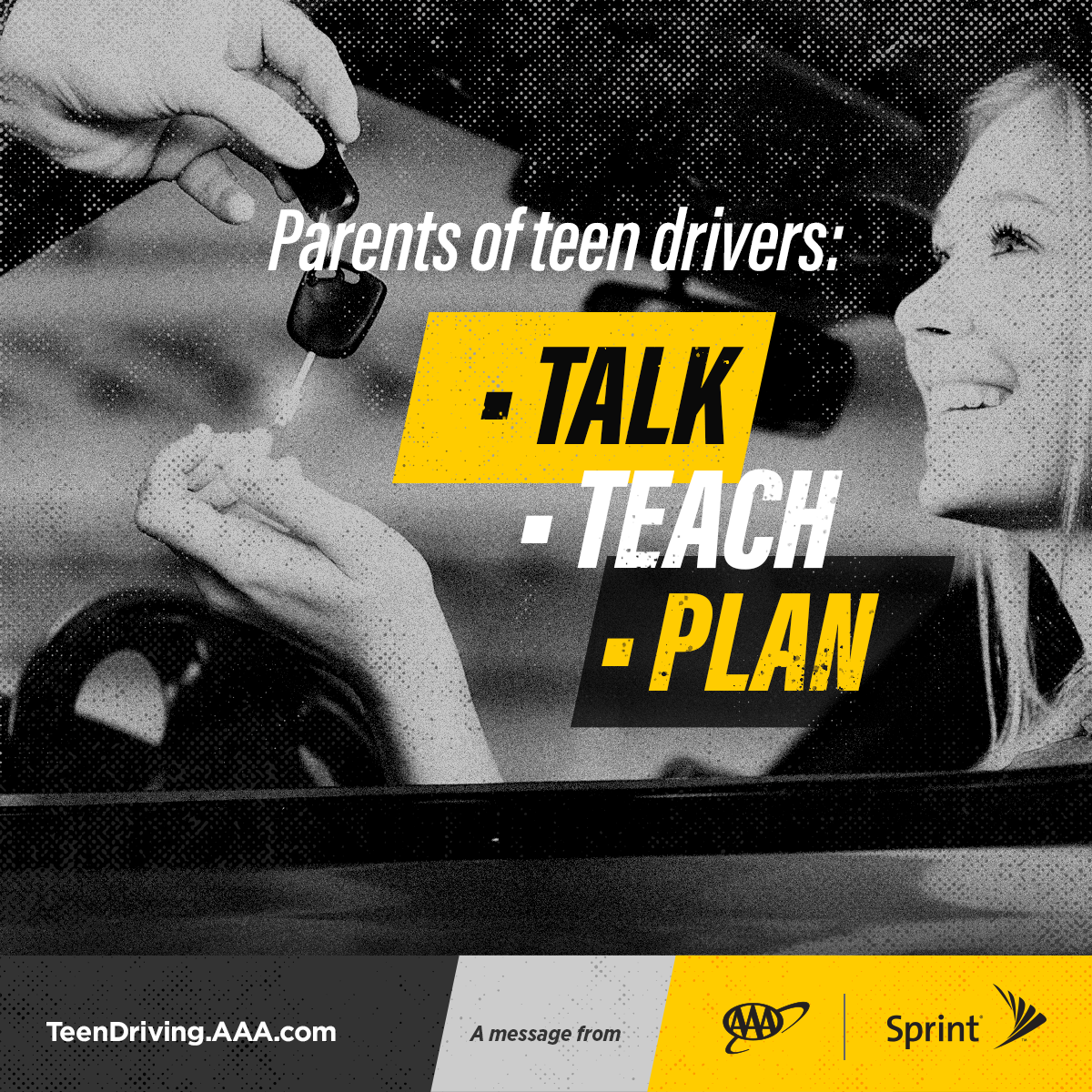 AAA MOBILE APP ALLOWS PARENTS TO MONITOR TEEN DRIVING HABITS
AAADrive™ is a free feature within the AAA Mobile app that can help parents keep their new teen driver safe. Available to AAA members and insureds, it allows parents to set limits for their teen such as when they can drive, where they can drive and how fast they can drive. Download it by texting MOBILEAPP to 99513.
About the AAA Foundation for Traffic Safety
Established in 1947 by AAA, the AAA Foundation for Traffic Safety is a not-for-profit, publicly funded, 501(c)(3) charitable research and educational organization. The AAA Foundation's mission is to prevent traffic deaths and injuries by conducting research into their causes and by educating the public about strategies to prevent crashes and reduce injuries when they do occur. This research is used to develop educational materials for drivers, pedestrians, bicyclists and other road users. Visit www.AAAFoundation.org.
About The Auto Club Group
The Auto Club Group (ACG) is the second largest AAA club in North America. ACG and its affiliates provide membership, insurance, financial services and travel offerings to over 9.9 million members across eleven states and two U.S. territories including Florida, Georgia, Iowa, Michigan, Nebraska, North Dakota, Tennessee, Wisconsin, Puerto Rico and the U.S. Virgin Islands; most of Illinois and Minnesota; and a portion of Indiana. ACG belongs to the national AAA federation with more than 59 million members in the United States and Canada and whose mission includes protecting and advancing freedom of mobility and improving traffic safety. Motorists can map a route, identify gas prices, find discounts, book a hotel, and access AAA roadside assistance with the AAA Mobile app for iPhone, iPad and Android. Learn more at AAA.com/mobile. Visit AAA on the Internet at AAA.com.