Stay off the roads unless absolutely necessary
06 February 2020
AAA: Use Extreme Caution When Driving In Heavy Rains

USE EXTREME CAUTION WHEN DRIVING IN HEAVY RAINS
Stay off the roads unless absolutely necessary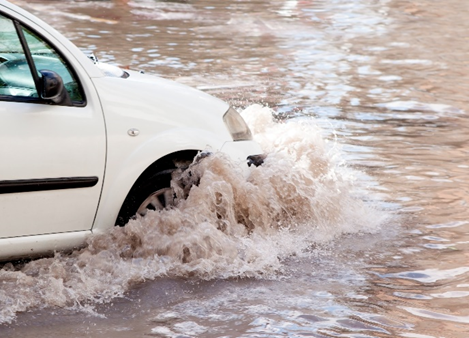 Atlanta, Ga. (February 6, 2020) — Heavy rain and lightning are moving across northwest Georgia. Strong winds, heavy downpours and the threat of tornados are expected to create dangerous driving conditions. AAA urges motorists to be cautious and avoid being on the roads during the storm if possible.
"It's important that drivers heed official warnings and avoid driving on wet and flooded roads if able," said Montrae Waiters, spokeswoman, AAA – The Auto Club Group. "If you see rising water, don't drive through it! Driving through standing water is especially dangerous, because you never know just how deep the water is or what you are driving over." If your vehicle shuts down while in standing water, do not try to restart it. Restarting a vehicle in standing water can cause more water to enter the engine and could cost thousands of dollars to repair.
AAA offers the following safety tips:
Check traffic and weather conditions before heading out.

Pack an emergency kit in your vehicle, which includes a flashlight with extra batteries; a first-aid kit; drinking water; mobile phone and car charger; extra snacks/food for your travelers and any pets; battery booster cables; and emergency flares or reflectors.

Have a full tank of gas.

Always wear your seat belt.

Rainy conditions can cause low visibility: Turn on your headlights to help you see better and to allow other motorists to spot you better. Avoid using your high beams because you could blind other drivers and the extra light will reflect off the rain, causing more of a distraction for you.

If you can't see the edges of the road or other vehicles at a safe distance while driving during wet weather, pull of the road as far as you can and wait for the rain to ease up. Make sure to turn on emergency flashers to alert other drivers.

Avoid standing water and flooded roads at all times. There is no way to tell how deep standing water is on a flooded road and driving through it can cause a vehicle to stall and result in severe damage to your vehicle.

If your vehicle stalls in a flooded area, do not remain in the car. Abandon it as soon as possible and seek higher ground. Flood waters can elevate quickly, sweeping away the vehicle and its occupants.

Roads closures also apply to our tow truck drivers as safety is the key for everyone.

Drive distraction free. Do not text or engage in distracting activities while driving, including interacting with a cell phone, talking with passengers or looking at other objects in the vehicle.

Comply with the Move Over Law. Observe the Move Over Law when law enforcement or emergency vehicles are on the side of the road. Change lanes or slow down to give sufficient clearance. This is the law in all 50 states.

Pull out of the traffic lanes if your car breaks down. If faced with a vehicle emergency, safely steer your car off the roadway. Turn on the emergency flashers to alert other drivers and exit the vehicle on the side facing away from traffic if possible. Once everyone is in a safe location, request assistance from a road service provider.

Traffic Signal Blackout: If traffic signal lights are not working due to power failure, you must stop at the intersection and then proceed when you know other turning and approaching vehicles, bicycles, or pedestrians have stopped. A blacked-out traffic signal works the same as a four-way stop intersection.
Tips for Driving Safely in Strong Winds
Anticipate gusts - Pay attention when driving through areas prone to strong winds or when weather reports forecast severe weather.

Firmly grip the steering wheel. Know your vehicle, light cars, vans and other "boxy" vehicles are more likely to be blown by strong gusts of wind.

Increase space between your vehicle and other motorists, especially vans, recreational vehicles and cars pulling trailers which may be adversely affected by the wind.
AAA Weather Company Alerts
Whether you're at home or on the road, knowing what the weather will be like can be crucial to protecting the people, pets and the things you treasure most. AAA members can now track weather events for free by signing up for Weather Company Alerts. Learn more at AAA-Stay Ahead of the Storm
Visit the AAA Georgia Newsroom
About AAA - The Auto Club Group
The Auto Club Group (ACG) is the second largest AAA club in North America. ACG and its affiliates provide membership, insurance, banking, financial services, and travel offerings to over 13.5 million members across 13 U.S. states, the province of Quebec and two U.S. territories including Florida, Georgia, Iowa, Michigan, Nebraska, North Carolina, North Dakota, Tennessee, Wisconsin, Puerto Rico, South Carolina and the U.S. Virgin Islands; most of Illinois and Minnesota; and a portion of Indiana. ACG belongs to the national AAA federation with more than 60 million members in the United States and Canada whose mission includes protecting and advancing freedom of mobility and improving traffic safety. Motorists can map a route, identify gas prices, find discounts, book a hotel, and access AAA roadside assistance with the AAA Mobile app for iPhone, iPad and Android. Learn more at AAA.com/mobile. Visit AAA on the Internet at AAA.com.