Driving impaired endangers everyone on the roadway
05 February 2021
NEWS RELEASE

CONTACT:

Montrae Waiters, AAA spokeswoman, The Auto Club Group
Cell (813) 244-0815
Mwaiters@acg.aaa.com
WATCHING THE "BIG GAME"?
AAA'S 4-DOWN GAMEPLAN FOR GETTING HOME SAFELY
Driving impaired endangers everyone on the roadway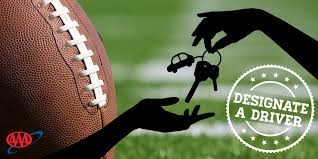 ATLANTA, GA., (February 5, 2021) – Whether you watch "The Big Game" at home, or at a watch-party somewhere else, AAA urges drivers to have a game plan for getting home safely.
"Regardless of who wins the game, if you drive impaired, you're a big loser," said Montrae Waiters, spokeswoman, AAA – The Auto Club Group. "The penalty for driving under the influence could be someone's life."
Due to safety concerns related to the COVID-19 pandemic, AAA is not currently offering the Tow to Go program. So if you plan to party this weekend, make your plans now for a sober ride home. With a plan in place, you won't have to worry about making the wrong game time decision.
If football puns don't get your attention, perhaps these statistics from the Georgia Department of Transportation (GDOT) will. The state reported 2020 was a deadly year- 1,600 deaths on the roadways compared to 1,491 in 2019.
"It's important for drivers to be especially cautious on the roadways," Waiters continued. "Increased traffic is anticipated for "The Big Game." So watch out for pedestrians and bicyclists, and remember a distracted driver can be just as dangerous as an impaired one."
AAA's 4-Down Game Plan for Driving Safe This Weekend
Identify a sober ride home before the festivities kick off.
Wear your seatbelt every time you're in a vehicle.
Minimize distractions while behind the wheel. Focus on the road, not your phone.
Allow extra time to arrive at your destination. Mistakes happen when you're in a rush.
Visit the AAA Georgia Newsroom
Twitter @AAAGeorgia
About AAA - The Auto Club Group:
The Auto Club Group (ACG) is the second largest AAA club in North America with more than 14 million members across 14 U.S. states, the province of Quebec and two U.S. territories. ACG and its affiliates provide members with roadside assistance, insurance products, banking and financial services, travel offerings and more. ACG belongs to the national AAA federation with more than 60 million members in the United States and Canada. AAA's mission is to protect and advance freedom of mobility and improve traffic safety. For more information, get the AAA Mobile app, visit AAA.com, and follow us on Facebook, Twitter and LinkedIn.